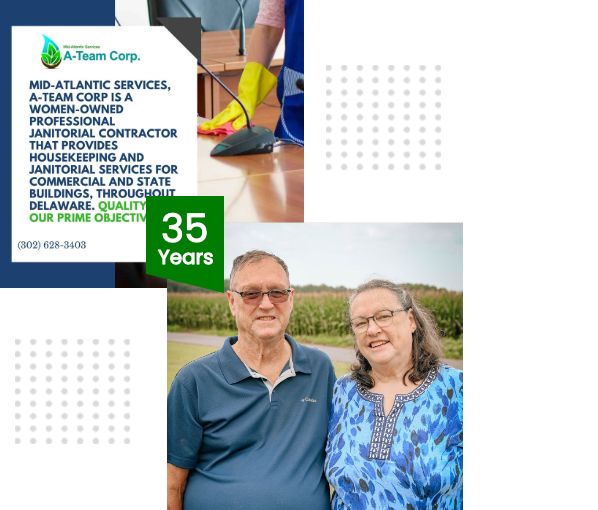 About Us
Environmental Services Contractor for New Castle, Kent, and Sussex Counties
Corporate Information Starting from humble beginnings, Mid-Atlantic Services (MAS) was started in 1980 by Michael and Rosemary Everton of Seaford, DE. Originally, MAS was limited to cleaning residential homes and restoring tile floors for department stores, convenience stores, and factories. With the pristine quality of work MAS provided, we s...
Learn More
Office & Agency Cleaning
Pristine Quality
Neat & Cleaning Service
Expert Cleaner
News
A-Team Corp Attends ISSA
Team members for A-Team Corp attended an ISSA Show in Chicago. ISSA is committed to changing the wa...
Cleaning and Disinfecting for the Coronavirus (SARS-CoV-2) - ISSA
ISSA, the worldwide cleaning industry association, is here to help cleaning industry professionals u...
Jamie and her team not only delivered above and beyond what was expected; they jumped in and helped in other areas ... Keep Reading
Michael Coco (AEG Presents Firefly Music Festival)
These past few years have been tough on everyone, trying to keep people healthy and workplaces safe & clean. In or... Keep Reading
Gene Dobrowolski (DMSS) Chief of Maintenance Operations
It has been F.P.C. Holdings' honor to partner with Mid Atlantic Services in providing facilities maintenance produc... Keep Reading
F.P.C.
Employee Spotlight
CONGRATULATIONS TO PAT WEGNER ON HER RETIREMENT! Pat was our Sussex County Supervisor for 22 years!
Pat could always be counted on for her hard work and dedication to each job. She will be missed but we know she is ready to slow down and enjoy more time with her husband, Donald by the pool!
Clients & Industries We Serve
TidalHealth
DelDot
DNREC
DE State Police
Department of Justice
DE National Guard
Sussex County Government
Department of Health & Social Services
Our Service Area
Mid-Atlantic Services is a Janitorial and Environmental Services Contractor for New Castle, Kent, and Sussex Counties in the State of Delaware.